Info for audience
This page contains info for competitors. If you are looking for info for audience you will find it in Facebook-event "ATSX 500 Rautalampi FIN"
Results:
Athlete info
We are happy to welcome you all to Rautalampi in February 2020. Rautalampi has been hosting international Ice Cross races many times and this year ATSX500 will take place first time here.
Rautalampi is a small and cozy village in the middle of Finland. If you don't like traffic lights or crowded hotels we are happy to tell; we don't have those either. Instead we have chill atmosphere, beautiful frozen lakes and forests, lots of snow and of course permanent Ice Cross track.
This page contains essential info for ATSX500 competitors. More detailed info will be found from Welcome letter, which could de downloaded from ATSX database (Rautalampi 2020 registration page) when logged in.
Table of contents
Schedule
Schedule is preliminary. Changes are possible. Schedule will be updated for this page also during the race weekend.
Thursday 6.2.2020

09.00 – 11.30 Registration at the locker rooms (at school)
11.30 Riders briefing (at school)
12.00 – 14.00 Free training

Registration needs to be done before going to training
Friday 7.2.2020

07.30 – 08.30 Registration at the locker rooms (at school)
08.30 Riders Briefing
09.00 – 10.00 Limited training (only 1 run per athlete)
11.00 – 15.00 Time trials (shuttle available)
14.00 – 16.00 Dinner (at school)
18.00 – 20.00 Exhibition Ice Hockey Game: Finnish Riders vs. Rest of the world (optional)

Registration needs to be done before going to training.
Saturday 8.2.2020

08.30 Riders briefing (LCQ)
09.00 – 10.00 LCQ Race (shuttle available)
11.30 Riders briefing (Finals)
12.00 ATSX500 Finals (shuttle available)

Junior TOP16
Women TOP16
Men TOP64

14.00 – 16.00 Dinner (at school)
22.00 => After party at the restaurant Nuapuri

Registration needs to be done before going to training.
Additional training times before the race weekend

Times for additional trainings:

Monday 27.1. 12.00 – 14.00 Cancelled
Tuesday 28.1. 12.00 – 14.00 Cancelled

Monday 3.2. 12.00 – 14.00

Payments are collected from 11.00. Riders Briefing 12.00.

Tuesday 4.2. 12.00 – 14.00

Payments are collected from 11.00. Riders Briefing 12.00.

Fee for each training session is 20€. Paid in cash onsite.
You will get the sticker for your helmet as a mark of payment. You can't enter the track before the payment is done.

As you understand these additional trainings depends on weather and track conditions.
Locations
Rautalampi is located in the middle of Finland, between cities of Kuopio and Jyväskylä. Track is located in center of Rautalampi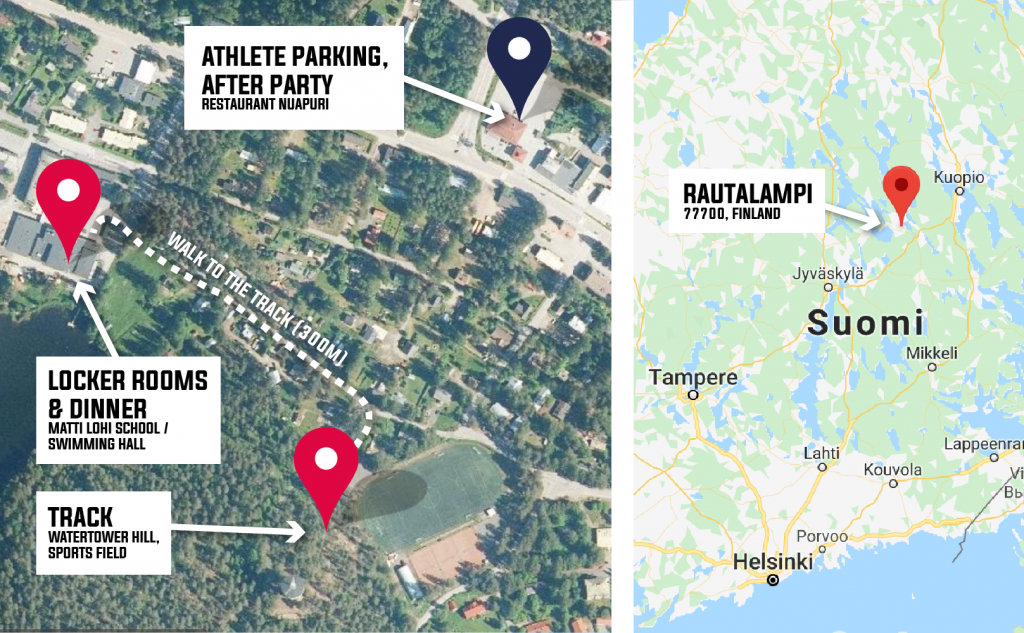 Cash machine

There is only one cash machine in Rautalampi. It's located next to bank called "OP Rautalampi".

If you see this orange logo, you are at the right place.

There's no parking in front of bank. Leave your car to the grocery store (K-Market) parking.
Athlete parking

Thursday and friday

Parking at the school is NOT ALLOWED. You can bring your gear to school with car, but cars have to be moved to another location. Athlete parking is behind the restaurant Nuapuri (the afterparty place), about 300m from school.

Please be careful when driving near the school. Kids around!

Saturday

Parking at the school (locker rooms) IS allowed.

PARKING AT THE TRACK IS NOT ALLOWED IN ANY CIRCUMSTANCES!
Locker rooms

Locker rooms are at the Matti Lohi school's sports hall, about 300 meters from the track. Registration and riders briefings are also kept there.

Gear can be stored at the sports hall from Thursday to Saturday. Sports hall is kept locked but you leave your stuff at your own risk.

We recommend to gear up (except the skates) at the school and then walk to the track. At the track there is small locker room where you can put on your skates. PLEASE TAKE YOUR OWN SKATE GUARDS WITH YOU!
Track

Location

Location: Water tower hill, Rautalampi sports field
Address for athletes: Turkkilanvuorentie 1, 77700 Rautalampi
Address for audience entrance: Maukolantie 1, 77700 Rautalampi
Google maps link: https://goo.gl/maps/JPjUCWC8ty3MR6Hc8
NO PARKING AT THE TRACK!

Track details

Length: 350 m
Width: 4-6m
Vertical drop: 25m
Turns: 6
Ice: Natural
Sidewalls: partially

Track is located on Watertower hill and it's mostly the same as in ATSX250 race at 2019, but bigger, better and more interesting.
To participate
Competition is open to everyone, who is older than 16 years, registered at data.atsx.org, has paid the ATSX athlete licence and race fee.

Registration

Registration is done via ATSX database (data.atsx.org). Register for the event with your ATSX profile and choose Rautalampi 2019/2020

If you don't have a profile – sign up at the ATSX database: data.atsx.org/Account/Register

Max spots:

MEN: Total 96. LCQ 33-96. Final TOP64.
WOMEN: Total 24. LCQ 9-24. Final TOP16.
JUNIOR: Total 16. Final TOP16.

Be fast to secure your spot – first come, first serve basis. Your spot for the race is reserved after registration AND payment. Registration will close 7 days prior to the race, OR before, if the race's capacity has been reached.
Race fee and license

Race fee

Race fee for women and men is 75€, for juniors 55€. Juniors that are also competing in adult categories, need to purchase a ticket for the Men/Women category only.


You will get the link for the payment after your registeration for the event on ATSX. Payment will be done with debit or credit card via Ticketteer-service.


Fee includes two meals (1 on Friday and 1 on Saturday), all the sessions from Thursday to saturday.) and after party ticket.

Licence

Every participant needs an ATSX athlete licence; season license or event license. License should be registered and paid via ATSX-database (http://data.atsx.org)

Reminder!

Every rider should have insurance for the whole period of competition (that's a mandatory and includes the training runs). Without payment of the international licence, the athlete is not allowed to participate. Participants 16-17 yrs. should provide a letter from their parent(s) (or legal guardian) allowing them to compete in this extreme sport event. (Full name and signature of the parents necessary, ID card (or at least copy) of the parent who signed should be available to show upon request).
Rules

Rules

Race follows ATSX international rulebook for season 2019-2020.Read more: ATSX Ice Cross Athletes' Rulebook 2019-2020 (PDF)

Prize money

Detailed info about prize money can be found from ATSX Price money chart. Prize money is paid by ATSX.

MEN. Prize money for standings 1-64. Total: 17500€
WOMEN. Prize money for standings 1-16. Total: 7500€
JUNIORS. Prize money for standings 1-16. Total: 5000€

Prize money will be paid via Paypal, so every athlete will need Paypal-account.
How to get to Rautalampi?
By train

Nearest train station is Suonenjoki. It's about 20km from Rautalampi. Train schedules can be found from: https://www.vr.fi/
By bus

Most of the buses (also Onnibus) stops at Koskelo, Suonenjoki (also named Koskelo Ysitie) if asked. This bus stop is next to the gas station and it's about 13km from Rautalampi.


There might be some buses coming straight to Rautalampi, but that's quite rare.
Bus schedules could be found from:
https://www.matkakeisari.fi/?lng=en (combines schedules from different bus companies)
By plane

Nearest airports are at Kuopio and Jyväskylä, aroundt 80km away. Transfer connections from these airports to Rautalampi are really bad.
By car

Easiest way to find the way here is to use Google Maps or some another navigator. 😀 Road number 69 goes through Rautalampi.

Distance from Jyväskylä to Rautalampi is about 100km (1,5hrs).
Distance from Kuopio to Rautalampi is about 70km (1hrs)
Distance from Helsinki to Rautalampi is about 350km (4hrs)

There is no car rental in Rautalampi.
Accomodation
There are no hotels in Rautalampi. For riders we have arranged own bnb. For other options (like cottages) take a look from AirBnb and Booking.com
Riders BnB
We have private BNB just for riders. It's available from monday 3.2. to monday 10.2. Price per night is 35€/person. Because this is just for riders more info could be found from Welcome letter (found on ATSX database when logged in).
FAQ
What is that ice hockey game?

Winter classic! Each year riders play an exhibition game where finnish riders challenges rest of the riders. Game is played with soft rules (no hits or slapshots) and just for fun. If possible take your own helmet and hockey stick. We also have some helmets and sticks to borrow.
Is there afterparty?

Yes, of course. Good party with live band playing. You must be 18 to enter and show your athlete pass for free entry. Free entry ONLY if you arrive before 22.00.

Location: Restaurant Nuapuri, Kuopiontie 21, 77700 Rautalampi
Google maps link: https://goo.gl/maps/WD5UJk5hhhhN1XVj7
Saturday, from 22.00 to 04.00
Must be 18 to enter
You need to show athlete pass for free entry. Free entry ONLY if you arrive before 22.00.
Do we get fantickets?

Sorry but no. Audience tickets for the saturday is 5€. Tickets is sold at the gates of the race area.
Do I need my own skateguards?
Is there skate sharpening available?

Skate sharpening is available at the track from thursday to saturday. Sharpening is done by Pekka Sysimies from ProSharp. Skate sharpening fee: 10€. CASH ONLY!.

You can leave your skates for Pekka in the evening to get them ready for the morning.
Questions?
If any questions feel free to ask us.